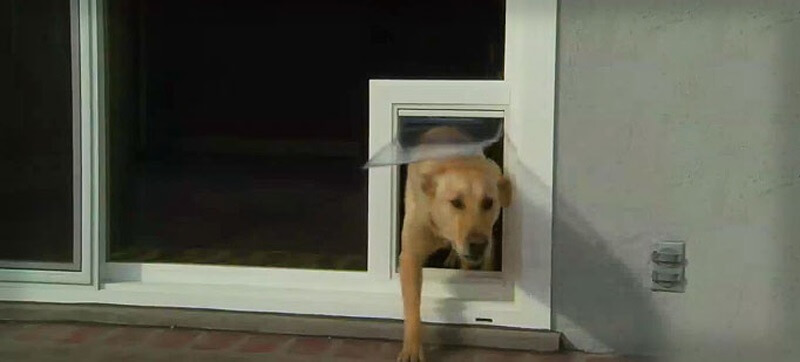 Best Custom Doggie Doors in Orange County
Your dog is a member of your family. You give your dog unconditional love and attention, so why not give your dog his or her own custom dog door. At Danjo Windows and Doors, we make customized dog doors for vinyl frame doors for your Orange County, CA, home. Our team of experts are ready to provide you with a free, in-home estimate today to determine the exact type of dog door you need. Not local, but still interested in our dog doors for sale? No problem! We ship all across the country, so that you get your pet door installed right away with little waiting.
Our Door Guarantee Options
At Danjo Windows and Doors, we have an extensive selection of dog doors.  Our doors are made for dogs of all sizes, including miniatures, large, and super-large dogs that weigh up to 120 pounds. All of our doors, including our large dog door, include a full replacement guarantee including any hardware. If you have any problems, our team of experts want to help you immediately. We replace missing or broken glass on the sliding panel that houses the built-in doggie door. We also replace door screens that have a built-in doggie door flap.
Our doggie doors are built to be installed on vinyl frame doors and include the following styles:
Doggie door for French doors
Automatic dog door
5 sizes for all shapes and sizes of dogs
Sliding glass dog door
Call us today to get your in-home estimate and find the right match for you.
The Benefits of Automatic Dog Doors
Many people are hesitant to install a dog door because they believe this makes their home vulnerable to theft and unwanted critters. Today's dog doors are designed to work specifically for your pet and only your pet. Any exterior door with dog door attached is secure when installed by Danjo Windows and Doors. When you invest in an automatic or electric-powered dog door, it's set up to only let your pet inside. Instead of the normal flap that doesn't always protect against unwanted critters, an automatic door recognizes your pet when he or she comes to the door. The dog door opens, and the pet is able to come inside. How does the door know it's your pet coming inside? Your dog wears a special collar that the door's mechanisms recognize. The color transmits a programmable signal and when the signal is received by the automatic door, it opens. This prevents critters like squirrels, raccoons, and your neighbor's dog from getting in. Only your best, furry friend gains entry into the home.
You and Your Pet Benefit When You Buy a Dog Door
Dog doors are a great help for busy pet owners. They allow you to check on more thing off your list. If you're constantly forgetting to walk your dog, a pet door lets your dog take care of his or her business when they need to. It's especially helpful for busy pet owners who are away at work and school and can't always rush home in time to let their dog out to go to the bathroom. With a pet door, you have less mess and your pet has more outside time.
Get Your Customized Doggie Door Today
Contact our Orange County, CA, team to get your custom-made doggie door right away! We ship all over the country and back our product completely. Call now to start the ordering process.